You can read this article also in : 日本語 (Japanese)
Hello! My name is Harie and I am an expat wife in Warsaw.
Today
Cafe "batida" about 5 minutes walk from Shinsegae Dori
I came to
It is located in an area with a celebrity atmosphere, with five-star hotels lining the street in front of it.
The "New World Street " shopping district and the"Old Town " World Heritage site are bustling with tourists.
Located just between the two, it is a convenient place to stop by during sightseeing.
There are 8 stores in Warsaw, and it is a popular restaurant frequented by Japanese living in Warsaw.
batida's Menu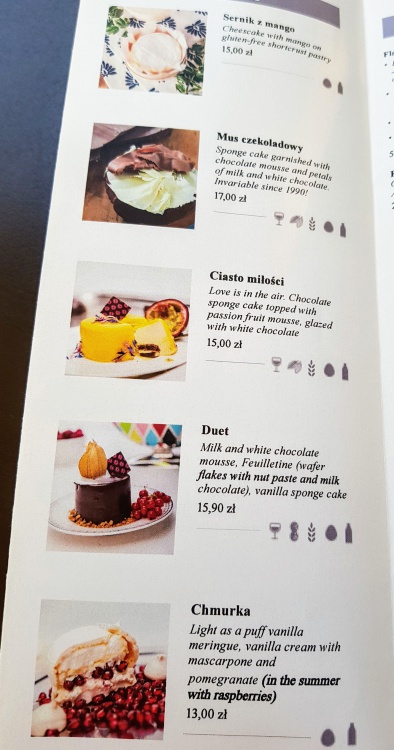 Coffee and tea about 10-12 zloty (about 300-360 yen)
Cakes 14-17 zloty (about 420-510 yen)
Ice cream 5 zloty (about 150 yen)
You can also choose while looking at the showcase.
Some cakes were not on the menu.

There is no "Polish-ish" cake in batida!
There are no "Polish-ish" cakes in batida.
There is a lineup of fashionable cakes that look like they could be sold in Paris.(I've never bought one, but w)
Eh~ Since I've come all the way to Poland, I'd like to try some Polish sweets!
You think, don't you?
I understand that feeling very well.
But!
To be honest, I don't really recommend cottage-cheese Polish pastries!

Because, sweet!Anyway, it is sweet.
It's sweeter than Jun Itoda.
Even though I have a sweet tooth, I often end up leaving the traditional Polish cake uneaten until the last bite.
It would be a waste to leave Poland thinking that Polish sweets are not good enough!
It's your trip, and I hope you get to eat some good food!
With this in mind, I would like to introduce more and more delicious restaurants that I know because I live in Warsaw.
What you think of the restaurant and what you ordered
The restaurant is spacious and relaxing.
The day I went there was a beautiful day, so there were many people enjoying tea time on the terrace.
Red Velvet (mascarpone cream and raspberry cake)
The cake is filled with mascarpone cream between chocolate sponge.
Raspberries are on top.
The mascarpone cream is deliciously sweet!
Although sponge-based, it is filled with cream, making it a bit mousse-like.
It's not too heavy, so it's one that can be flipped after a meal.
The sweet and sour taste of the raspberries is a nice touch.
BANANAAA (chocolate banana)
The next cake is "BANANAAA".
Maiko Haaaan! A name like that (laughs)
It was chocolate mousse + almond sponge with banana in it.
It is a fashionable chocolate banana.
It tastes like peanut butter, maybe a little sweet.
I'm a Red Velvet girl because I like my cakes with a moderate sweetness.
Atmosphere of the store

The store is spacious and colorful.
The waitstaff worked so briskly that you could almost hear them "tic-tac-toe" and "pach-tach-tach".
Wonderful.
English was also OK.
Batida Krakowskie Przedmieście store (Batida): directions, hours of operation, basic information
| | |
| --- | --- |
| address (e.g. of house) | ul. Królewska 2, (przy ul. Krakowskie Przedmieście), 00-065 Warszawa |
| Business Hours | Monday – Sunday 09:00 – 21:00 |
| genre | Cafe, Cakes |
| Official HP | https://batida.pl/?lang=en |
| English Menu | ant |
| Nearby Tourist Attractions | Holy Cross Church 5 min. walk, Warsaw Royal Palace 9 min. walk |
| Cleanliness of restrooms | 0⁺ (quite clean) |
54.5 zloty (about 1,635 yen) for two people
Red Velvetx1 15zl
BANANAAAx1 15.5zl
Tea x2 24zl
Polish small talk (4)

Polish people like to keep clean.
They are very clean.
Compared to other European countries, I think the streets and stores are quite clean.
As a side note, there was an automatic toilet seat seat in the bathroom at batida.
It's that thing where you press a button and the vinyl sheet rotates to become a new sheet.
(For those of you who don't know, this is what it looks like. (This is a picture of the bathroom, so I'll just give you the link)
Come to think of it, I haven't seen them in Japan for some time – I remember seeing them in department stores and such in the past.
I haven't seen that in a long time!
It is a nice thoughtfulness.