You can read this article also in : 日本語 (Japanese)
Hello! My name is Harie and I am an expat wife in Warsaw.
Very popular with the locals today.
Manekin, a naresiniki (crepe) and pancake shop
I went to
Located one metro stop away from Warsaw's central Central, this restaurant is a must-visit for those who are always waiting in line.
The company has 11 stores in Poland, with two in Warsaw.
Manekin Marszałkowska (Warsaw)
Look at the menu, what a surprise!
Pretty cheap!
Meal crepes: about 15-20 zloty (about 450-600 yen)
Sweets crepes: about 12-18 zloty (about 360-540 yen)
Sweet pancakes: about 15-16 zloty (about 450-480 yen)
There were also salads, soups, and cakes.
Beer and wine are also available.
You can see the detailed menu (in English) on the official website.
Crepes can be ordered from 350g minimum and pancakes from 250g minimum.
I was not asked anything about the quantity when ordering, so it seems to be a minimal quantity unless I make a special request.
Quite voluptuous for a minimalist!
My husband and I shared one crepe and one pancake, but we couldn't finish it and had to leave a slice of the pancake.
If you buy a take-out box, you can take home any leftovers.
(2 zloty for a box = approx. 60 yen)
What you think of the restaurant and what you ordered
It took about 10 minutes to wait in line outside the restaurant.
Because of the large number of seats, entry into the restaurant was surprisingly smooth despite the long line.
However, when you order, the waiter tells you a sad fact.

It will take 30-40 minutes for the crepes and pancakes to be cooked, is that OK?
Oh, seriously…
I wish you had told me that before I got in line…
Even so, I had faint hopes that they'd be out in about 15 minutes.
I waited a solid 30 minutes (laughs).
red crepe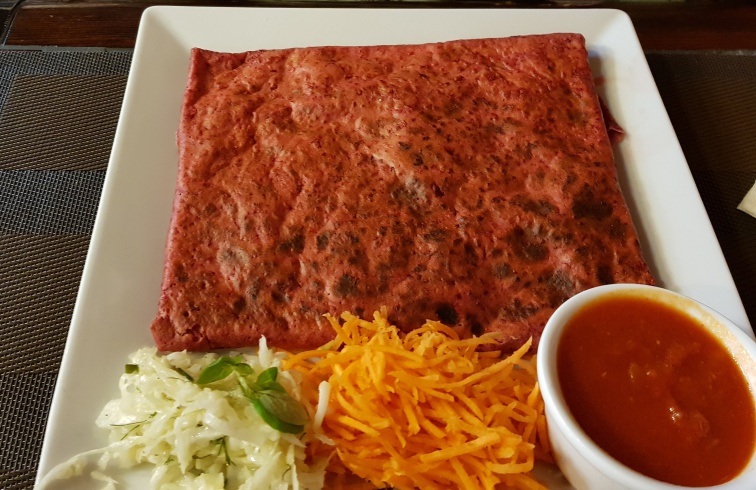 Beet kneaded into the crepe dough
Red Crepe.
which I was interested in, so I chose that one.
Beets are rich in iron and good for you~!
The filling was made of mozzarella cheese, tomatoes, salami, and olives.
(Red Crepe #3 on the menu list)
The sauce ordered was a mild tomato sauce.
This is, delicious.
Mozzarella cheese and tomatoes are a definite combination.
I have a sweet tooth, so crepes and galettes that aren't sweet aren't actually my favorite.
This place was totally doable!
This is probably the best meal crepe I've ever had.
Pancakes with banana, walnuts, salted caramel, cream sauce
Another exquisite dish!
The dough is fluffy (but not soufflé type) and the cream is not too sweet.
I think it would sell well if it were released in Japan.
Atmosphere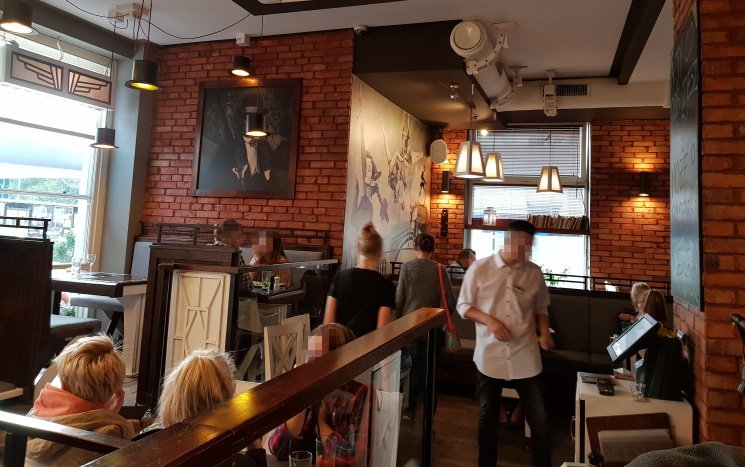 I wondered if it was full of young Warsawites, but there were a few grandparent couples and families here and there.
The interior of the restaurant is playful and fun.
It was crowded, but I didn't feel too cramped because the restaurant was spacious.
The waitress spoke English OK and was a nice person.

Cheap and tasty.
The food is inexpensive and tasty.
It is worth the long wait.
I want to go back…
It is recommended to
visit the restaurant when you have plenty of time to spare
, as you will have to wait quite a while for your food to be served.
Also, please note that drinks come immediately after ordering.
We found many customers who had drunk all of their drinks by the time the food was served (laughs).

Manekin Marszałkowska – directions, hours of operation, basic information
address (e.g. of house)
Marszałkowska 140, 00-061 Warszawa
Business Hours
Sunday – Thursday 09:00-22:00
Friday, Saturday 09:00-23:00
genre
Crepes, pancakes
Official HP
http://manekin.pl/64/warszawa-lokal#nalesnikarnie_menu
English Menu
ant
Nearby Tourist Attractions
Palace of Culture and Science (9 min. walk)
Halamirovska market (9 min. walk)
Holy Cross Church (11-minute walk)
Cleanliness of restrooms
0 (Normal. Quite clean for a foreign country.)
48 zloty (about 1,440 yen) for two people
Crepe x1 17zl
Pancake x1 16zl
Drinks x2 13zl
Take-out box x1 2zl
Polish small talk (1)
In Poland, crepes are called Naleśniki.
I have yet to see one for eating like the crepes in Harajuku.
It looks like a proper meal, eaten with a knife and fork.
I think I'm running into a higher percentage of people who aren't as sweet on the inside…