Hello! I am Harie, an expat wife in Warsaw.
Is Warsaw, the capital of Poland, safe?"
Very good! People who visit Warsaw for the first time are often surprised at how safe it is.
Not only Warsaw, but Poland as a whole is very safe compared to other European countries.
Nevertheless, just as in Japan, incidents and accidents occur on a daily basis.Here are 5 things you need to be aware of to avoid getting caught up in danger while traveling in Poland, as well as how to prevent it, areas to watch out for pickpockets, and more!
This article was created in 2019 when I lived in Poland. (Incidentally, when I went to Warsaw on a week-long trip in 2021, I didn't notice any particular change.)

The situation may have changed dramatically due to the war in Ukraine. Although we have not heard from our friends living in Warsaw that the security situation has deteriorated drastically so far, please make sure to get the latest information when you travel.
Read in conjunction with
Warsaw, the capital of Poland, is a safe city.
Warsaw, the capital of Poland, is actually very safe.
Poland is in the midst of economic growth, and the entire city is vibrant.
This may come as a surprise to those who have an image of Poland as dark or once socialist.
Compared to other European countries, I feel that the security situation is quite good.When Japanese expatriates in Warsaw go to Italy or France, they are always worried that the security is not as good as in Warsaw…" (laugh)
Polish people often go to the restroom in cafes without leaving their computers or luggage behind. Japanese residents are not that careless, though.
Security Information from the Ministry of Foreign Affairs
There are no travel alerts or danger warnings issued by the Ministry of Foreign Affairs.(as of June 2019)
No terrorist attacks in Poland
As of June 2019. There have been no terrorist attacks in Poland to date. (From the Public Security Intelligence Agency's Statistics on Incidents of Terrorism Worldwide )
About 97% of Poland's population is Polish. Because of this situation, it is said that terrorism is less likely to occur in Poland.
In addition, Poland's economic growth forecast for 2019 is high at 4.4% and unemployment is low at 5.4% (as of May 2019).
I feel that the city is very lively and the people have a lot of spirit.
I feel that such a situation may be the reason for the high level of public safety.
Can I walk out at night in Warsaw, the capital of Poland?
As long as minimal precautions are taken, walking out at night is not a problem.
Of course, you should avoid streets with few pedestrians and areas that are considered unsafe (as explained in the next chapter).
However, it is a good idea to I don't think you should go out late at night. There will be more drunks and obviously strange people.
I once saw an obviously suspicious person with blood streaming from his forehead wandering down Shinsegae Street in the tourist district around 23:00…
Even though the area is safe, it is best to avoid going out alone at night as much as possible for a tourist woman who does not know the area.
Unsafe areas in Warsaw
The two areas in Warsaw that I can think of that are known to be unsafe are
Near Warsaw Central Station
The atmosphere near Warsaw Central Station is a little bit bad. During the daytime, there are many people on the street and it is not a problem, but at night, it is best to avoid walking alone.
I sometimes see people, especially in front of the central station and in the park in front of the Palace of Culture and Science, who clearly look like they are in trouble.
Praga District
The Praga district on the east side of the Visva River has long been considered an unsafe area.
However, it is said that in recent years, with the construction of many new commercial facilities and restaurants, security has improved considerably.
It doesn't seem particularly scary during the daytime, but there are few places for tourists to go, so I don't think it is necessary to venture there.
Safety precautions in Poland (1) Pickpockets
Poland is a safe country, but just like in Japan, incidents and accidents happen every day.
Here are some incidents and accidents that tourists should be especially aware of.
The most likely target for tourists would be pickpockets.
Although not as common as in other European cities, pickpockets do occur in Warsaw. According to a resident who has lived in Warsaw for several years, pickpockets seem to have increased, especially in the last year or so.
Fortunately, pickpockets in Warsaw are simple, and we have yet to hear of any planned group or forceful pickpocketing, which is common in Italy and Spain. So, if you are properly careful, you can prevent them!
Warsaw pickpocket precautionary area
Here are some areas and situations in Warsaw where pickpockets are particularly common.
Bus, streetcar, metro (especially bus 175)
Halamirovska Market
Holy Cross Church
Old Town Square
The number 175 bus between Warsaw Airport and the city is often said to be riddled with pickpockets.
I have used this bus many times and the atmosphere is normal and not scary at all. I guess because there are so many tourists and it tends to be crowded, it is easy for pickpockets to do their job. As long as you are careful, there is no problem.
Not just the 175. Crowded buses, streetcars, and metros should be noted. If you are careful, you can use it normally even when it is crowded. I use it all the time.
Halamirovska Market is often said by Japanese residents to be crowded with pickpockets is a common story among Japanese residents in Japan.
That said, there is no scary atmosphere here either, and as long as you are careful, there is no problem at all. I go there 3 times a week and have never been pickpocketed.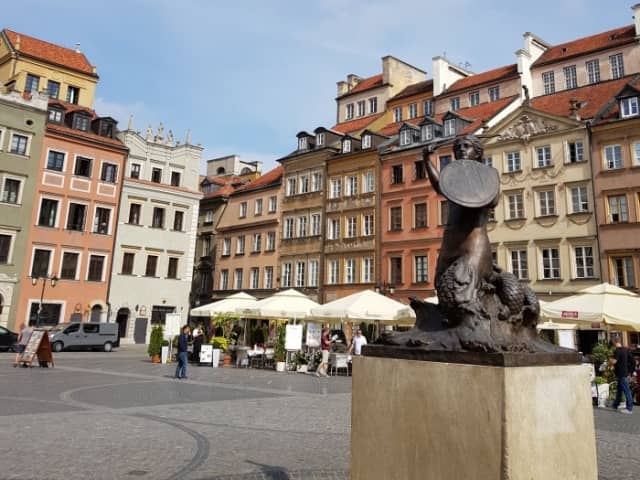 The Old Town Square, where most tourists live, is also said to have a lot of pickpockets. But you can be safe if you are careful here, too.
Famous for having Chopin's heart. The Church of the Holy Cross is also an easy target for tourists.
There are beggars here and the atmosphere can be a bit unfriendly at times. Keep your eyes peeled for the sights.
Convenient pickpocket-proof bag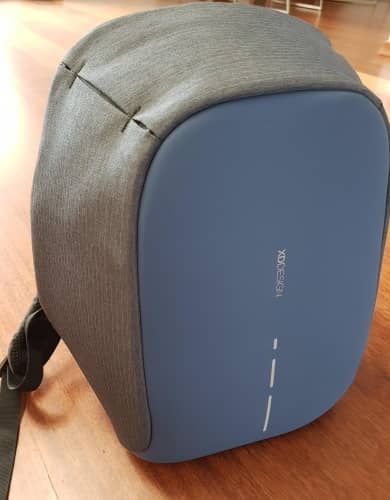 There are many anti-pickpocket products available, but I have recently been using an anti-pickpocket bag. I'm so glad I got this one!
It has the drawback that the harder it is for the pickpocket to open the zipper, the harder it is for me to open it myself (laughs), but I like it because it gives me a sense of security.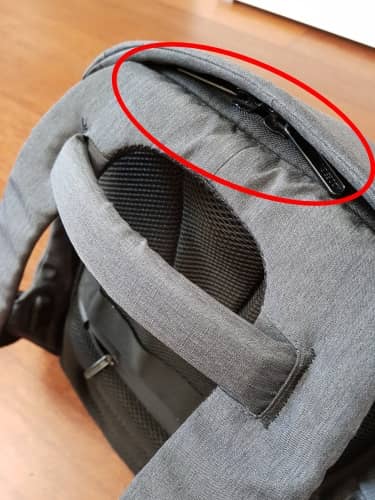 There is a sense of security that it can never be opened. It is firm and stable, so you will not get tired even if you carry it on your back for a long time. Being able to put a computer in it is also a plus.
However, the The drawback is that the storage capacity is much lower than it looks.
Also, it is too solidly made to be a nuisance in a crowded car, and you end up having to take it down from your shoulder.
link
Things to be aware of in terms of security in Poland (2) Traffic accidents
Next to pickpocketing, the most important thing to watch out for in Poland is traffic accidents.
Compared to other European countries, Poland has rougher driving and more traffic accidents.Cars, as well as bicycles and scooters, need to be careful.
The photo above shows a bicycle path in Warsaw. Please do not walk here as bicycles come at a high speed.
Also, beware of electric scooters, which have recently become popular in Warsaw. Because of their high speed, accidents involving scooters are increasing rapidly.
And watch out for the streetcars! There's no fence between them and the sidewalk, so watch out!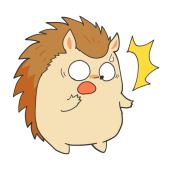 What! A streetcar goes by this close by! Watch out!
I always thought this way when I first came to Poland….
Things to watch out for in Poland's security (3) Obviously bad people
Sometimes there are people in Poland who are clearly in trouble, lol.
You can easily recognize them when you see them because of their eyes, facial expressions, and funny way of walking.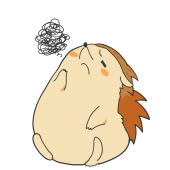 When I watch the news in Warsaw and Poland, I feel that most of the incidents and accidents are caused by drunks or drug users….
If you see a strange drunk or someone who appears to be on drugs, leave the area immediately.
Things to be aware of in terms of security in Poland (4) Signature fraud
I sometimes see signature scammers in Warsaw as well.
Signature fraud is a technique like this ↓.
Sign the petition for the disabled, please! Just sign the petition!
He approached me amiably and said, "I'll just sign it," and I signed it.
Look! So many people donating! You should donate, too! Hey, donate!
They will force you to donate by showing you a list of their own donations and the amount of money they have raised.
It is a common scam heard in Europe, and in France, there are many quite vicious signature scams, such as pickpocketing while signing. In Warsaw, however, I have not heard of anything that vicious.
Incidentally, Japanese are known to be pushy or easy targets. They speak to you in an affectionate manner and may even grab your hand to keep you back quite forcefully.
If you see someone hanging around with a piece of paper that looks like a circular, it is most likely a signature scam.Many of them have dark faces that do not look Polish.
Here is one measure I am taking.
If I see someone in front of me who looks like a signature scammer, I run past him at full speed, glancing at my watch in a frantic manner (lol).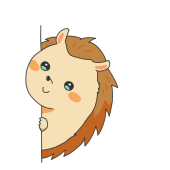 It is very effective, so please try it.
Things to be aware of in terms of security in Poland (5) Days of rising nationalism
When I watch the news in Poland, I sometimes see news about far-right groups.
According to the Embassy of Japan, in a poll conducted in February 2018. Some statistics show that 31% of respondents said they feel antipathy toward some foreigners. (They do not have such statistics for Japan.)
In July 2018, a Korean woman mistaken for Chinese was assaulted by a drunk Polish man in Wroclaw. We cannot deny the possibility that Japanese people may be similarly victimized.
I have never felt discriminated against or uncomfortable in my daily life.
Most Poles are open and very friendly.
A day to be careful just in case
On days of heightened nationalism, caution is advised just in case.
The following three days come to mind. There may be others.
Independence Day (11/11)
Warsaw Uprising Day (Aug. 1)
International Soccer Match Day
Beware of Extreme Soccer Supporters
Please also note the match dates of the Warsaw soccer club Legia Warszawa.
Legia is known to have some radical supporters.
In August 2018, a German passenger was assaulted by a militant supporter on board the 162 bus as he was returning home after the game.
Enjoy Warsaw with Poland's security trends…
What do you think about the trends you should be aware of in terms of security in Poland and Warsaw?
I may have given you a scary image because I showed you only the negative aspects….
However, knowing the security trends in advance will greatly reduce the likelihood of being caught in danger while sightseeing in Warsaw, so we have taken the liberty of explaining them here.
Basically, Poland is a pretty safe country. And you can rest assured that the Polish people are very friendly!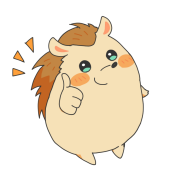 There is no need to be overly fearful. Just take the minimum necessary precautions and pay attention, and then enjoy Warsaw to the fullest!