You can read this article also in : 日本語 (Japanese)
Hello! My name is Harie and I am an expat wife in Warsaw.
In Poland, sandwiches are often eaten for breakfast or lunch.
Today. Introducing Supperlardo, a restaurant where you can enjoy homemade organic bread and special meats.
This restaurant serves up sandwiches filled with meaty meats for lunch!(W with a lot of meat)
Menu of "Supperlardo
Lunch (appetizer + sandwich or pasta) 29 zloty (about 800 yen)
Appetizers 10~32 zloty (about 300~900 yen)
Pasta 29~35 zloty (about 800~1000 yen)
Grilled meat 55 zloty~ (from about 1600 yen)
You can see the details of the menu on the official FACEBOOK.
Atmosphere of the restaurant and what you ordered
It is located on a small street off Chmielna Street, also known as "Warsaw's fashionable street.
Incidentally, Mąka i Woda next door is a popular pizza place in Warsaw.
These two stores are run by the same owner.
The menu shown is about 1 year old. The menu changes monthly and may not be available.
It has also recently changed to offering only weekly lunches.
Pork sandwich pork belly pastrami
When I first arrived, I thought, "It's so small! I thought, "It's so small! Voluminous! but in fact, it is rather large.
The contents are pork, marinated red cabbage, and mustard.
The pork inside is thick! Meaty!
It is very savory and delicious.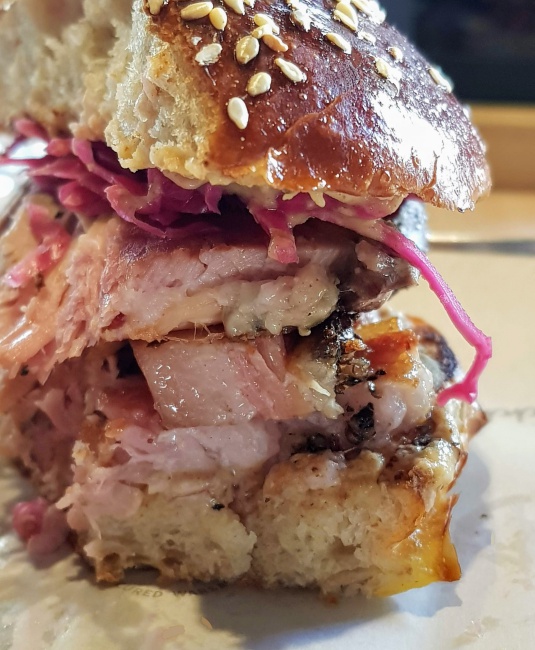 It's like a fancy version of the tender chashu pork in ramen.
It looks like it's for women, but it tastes like it could be for men.
I don't like fatty meat, so it was a little hard on my stomach toward the end of the meal, but the cabbage eased the fatty taste and I was able to finish it.
The bread that holds the savory meats is homemade organic bread.
Just eating it seems to increase girl power (laughs).
The potato chips that came with it were also delicious. Perhaps homemade?
Lemonade Supperlardo lemonade
Poland is a lemonade powerhouse.
It is no exaggeration to say that you can always find lemonade at any restaurant.
However, there are some restaurants that serve a kind of thin lemon juice, so it is very hit or miss.
In such a situation, this store's lemonade, so far, is the best in Poland. It's number one on our list of the best lemonades Harie has ever had in Poland!
Not too sweet, not too sour. Very non-alcoholic cocktail-ish, very tasty!
It goes well with fatty foods, so it's perfect for drinking with meat.
You could choose between "sour" and "sweet," and I went with sweet.
The sweet was never too sweet, so perhaps the sour is much drier.
Atmosphere of the store
There are many tables, but the restaurant is spacious.
The atmosphere of the restaurant and its customers was relaxed and stylish.
Perhaps because it was right around lunchtime, there were many businessmen dressed in crisp suits.
This was the place to go for a fancy lunch!
Directions, hours of operation, and basic information about "Supperlardo
address (e.g. of house)
Chmielna 13a, 00-021 Warszawa
Business Hours
Closed on Mondays and Sundays
<Lunch
Tuesday – Friday 12:00 – 15:00
<Dinner
Tuesday – Friday 4:00pm – 10:00pm
Saturday 11:00-22:00

*Bread and sausage sales are Monday through Saturday at 8:00 a.m.
Official HP
Facebook
English Menu
ant
Nearby Tourist Attractions
Frederic Chopin Museum (9 min. walk), National Gallery of Art Warsaw (8 min. walk)